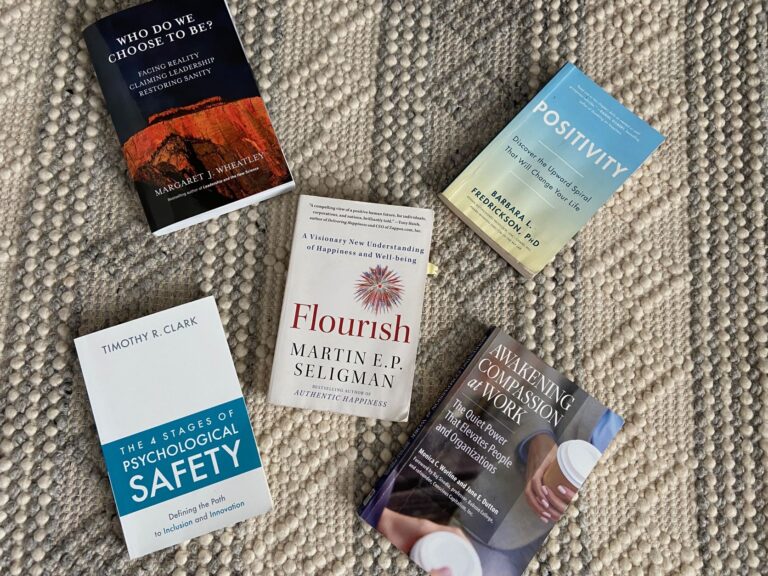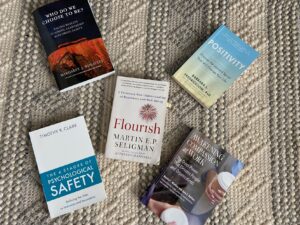 Principles in the sciences of caring, healing, design, and coaching are central to my work with leaders. Many of the concepts I use have been formulated by being conversation with other thought leaders. Books especially help me see new perspectives, deepen my knowledge of leadership, synthesis key ideas into frameworks and strategies that can be applied, and to make connections across disciplines.
Here are five books that have influenced my human-centered approach to change. This blog summarizes all five, but we'll dive into each of them in the months ahead. As you can tell, these books are well-loved resources I return to often.
Book 1: Flourish by Martin E.P. Seligman
As leader of the Positivity psychology movement, Seligman defines what well-being means and what makes life good for individuals, communities, and nations to raise the bar on the human condition. The pillars of Positive Psychology include positive emotion, engagement, relationships, meaning, and accomplishments. Seligman provides examples of how these principles work in action, including how corporations can improve performance at the same time as they improve employee well-being.
Book 2: Positivity by Barbara L. Fredrickson, PhD
Building on the Positive Psychology perspective, this book explains what positivity is, why it's more important than happiness, and how to find your own source of positivity that is authentic to you. World-renowned researcher Fredrickson provides tested tools for creating a healthier, more vibrant, and flourishing life through a process she calls "the upward spiral."
Book 3: Awakening Compassion at Work by Monica C. Worline and Jane E. Dutton
This book highlights the issue of human suffering in the workplace and how alleviating suffering has measurable competitive advantages for organizations in areas including innovation, collaboration, service quality, and talent attraction and retention. The authors outline four steps for meeting suffering with compassion and how to create the culture for compassion in the structures and practices of an organization.
Book 4: The 4 Stages of Psychological Safety by Timothy R. Clark
This book guides leaders in building psychological safety to create an environment where employees feel included, fully engaged, and encouraged to contribute their best efforts and ideas. Founder and CEO of consulting agency LeadFactor, Clark provides a research-based framework that moves leaders through the process of helping people feel included and accepted, to then feel safe to learn, contribute, and finally, challenge the status quo.
Book 5: Who Do We Choose to Be?: Facing Reality, Claiming Leadership, Restoring Sanity By Margaret J. Wheatley
During times of increasing fear and turmoil, this book calls on leaders to reclaim leadership as a noble profession, guiding people back to an understanding of who we are as human beings and returning to that humanness. The book inspires us to create islands of sanity that evoke and rely on our best human qualities to create, relate, and persevere.
Learn more about how these show up in my work: