When change happens within an organization, people feel the chaos on a deeply personal level. As they suffer through transition, many employees will disconnect from their work, their teams, and the goals of the organization. They may burnout and, eventually, leave the company.
As a leader, you can support your team through times off transition in a way that boosts engagement and retention. The 9 Core Elements of Flourishing is a framework for how to create the conditions that inspire well-being. When all these elements come together, people feel renewed hope, creativity, and a commitment to the process of change—allowing you to work together toward a better future.
The 9 Core Elements of Flourishing are based on the principles of positive psychology, which moves from seeing and fixing the negative to focusing on what is going well with people and how can we create the conditions for them to be even more well (Martin Seligman).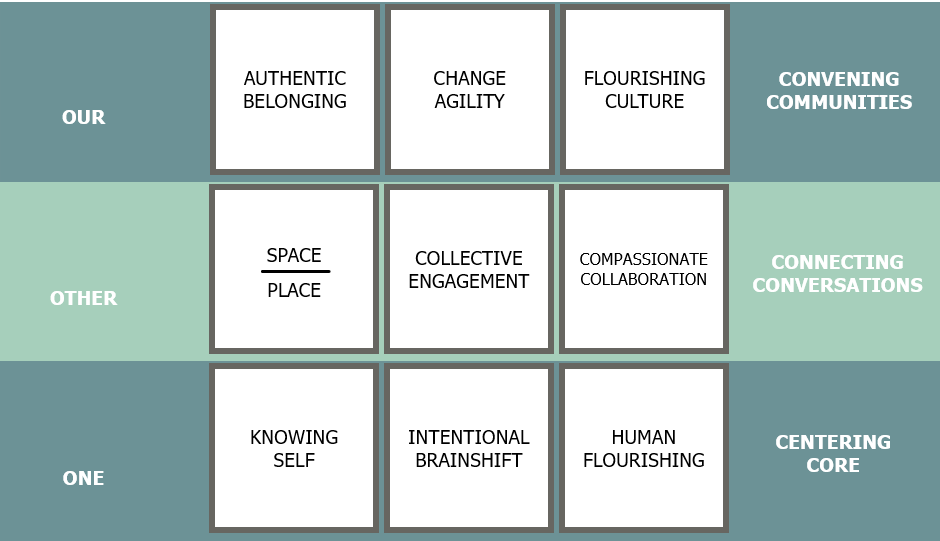 The work begins on the base level "ONE" and moves from left to right in this order:
Knowing self
Intentional brainshift
Human flourishing
Space | Place
Collective engagement
Compassionate collaboration
Authentic belonging
Change agility
Flourishing culture
Shifts happen as you progress through each level in these ways:
ONE: This level involves inner work to help you become grounded and present. When you are flourishing, you can create the environment for others to be centered in their work.
OTHER: This level involves work within your team to create the climate for people to feel safe and connected so that open conversations can happen, and people can focus on the future together.
OUR: As connections form through conversation, an organization builds a sense of community, where people come together with a shared desire and common goal. Working within community inspires a unified effort toward the new beginning the change initiative is bringing.
Each of these elements can be fostered through intentional practices and measured.
Trilogy Change Collaborative teaches this framework and provides methods and tools for bringing about each of the elements in the workplace. Learn more about the journey. Then sign up to receive updates on upcoming trainings.